Churchilean Andrada moved to Canada from the Philippines 1.5 years back, when her husband sponsored her shortly after their marriage.
Church, as she likes to call herself, had to leave her career in the banking industry to make the move. After 10 years of working in her home country, she decided to make a fresh start in Canada to put love first.
Read on to explore her method for finding work in the banking industry in Canada.
Create a Strong Foundation
Church had managed the branch operations for the bank she worked for in the Philippines. She was responsible for managing the tellers and the back office, reconciling the accounting books, and adhering to all the policies. Making recommendations for business commercial loans and seeing them through till their approval were also part of her job description. She had a stressful, demanding job, but she loved it. Her strong background in banking would go on to serve her well in Canada.
Adapt To the New Culture
When Church moved to Canada, she realized that even though some processes are executed differently, there are many similarities. However, she had to adapt to Canadian ways of banking. She is extremely tech-savvy and could learn new systems in just a day or two, which is a useful ability in the banking sector. She still struggles with learning the entire complicated gamut of banking products and financial services offered in Canada, but she is constantly working towards attaining mastery.
Be Open to Learning
Church remarks that even though it is useful to have a background in banking, it is not essential. Banks, both in the Philippines and Canada, provide courses and conduct seminars for employees to train them on the job. Click To Tweet In Canada, even branches offer services which are usually earmarked for head offices, so employees need to be up-to-date with all the licensing requirements and regulations to be followed. However, banks in Canada ensure that they provide the necessary tools, training and knowledge every employee needs to succeed and progress on the job.
Follow Your Passion
Church is glad she is in the banking industry because it helps her personally too – she learns how to invest her money wisely and how to be financially well-off. As long as you have an affinity to the industry, Canadian banks will be happy to show you the way. However, if you are not interested in numbers and finance, this sector wouldn't be the best fit for you. The banking industry does present challenges and difficult goals to reach, and employees do have stressful days. Nevertheless, Church observes, "As long as you love your job, no matter how hard it is, you will stay."
Attend Job Fairs
Church went to many job fairs to find her footing in the industry. When she came across a job fair, she would explore its website and read about the companies which would be present. If she was interested in any of them, she would decide to go. However, it is wise to stay away from job fairs whose offerings don't interest you because many job fairs are tailored specifically to certain types of jobs. You can find job fairs in your city on Google – make sure to add the keyword 'banking' to narrow down the searches.
Practise Your English
Church remembers her first experience at a job fair in Canada as being uncomfortable because she wasn't confident conversing in English, even though she could read and write well. Her husband began speaking to her in English at home so she could practise for interviews. This helped her begin thinking in English instead of translating from her mother tongue. It is essential to practise your English for fluency, comfort and confidence in job interviews. Church recommends watching English movies without the subtitles so you can practise your listening skills too! Click To Tweet
Build a Canadian Resume
Church had a resume before she came to Canada but it was different from what is accepted here. She Googled Canadian resumes and patterned hers based on a typical one. Find samples of Canadian resumes online, and create yours similarly. Make sure to Google the year too since the requirements change every 6 months. Church recommends keeping a resume updated, simple and short – up to 2 pages.
Put Your Best Foot Forward
Read job descriptions carefully, since there are many different positions available within the banking industry. If a position you are applying for lists a course as a requirement, Church recommends taking it if you can afford it. If not, communicate your willingness to take it. Find ways in which your skill set, accomplishments and abilities are perfectly suited to that job. Click To Tweet​ Church also advises focusing on polishing your LinkedIn profile.
Seek Professional Help
Church enrolled for many workshops at Bredin, an immigrant-serving organization, which taught her to build a professional resume, to look for a job and to ace interviews. Look for organizations which help immigrants find employment in your city, especially in the banking industry. Many organizations are funded by the Canadian government to guide new immigrants and provide them with all the resources and training they need to establish their careers here. Click To Tweet
Prepare for Interviews
Predict the questions you could be asked and prepare your responses in advance. Church likes to prepare herself 2 days before the interview. She advises thinking of an interview as a regular conversation, to calm your nerves. Also, be prepared to answer follow-up questions to your resume. Church advises honesty as the best policy – if you don't have a certain skill, convey it in a positive way. Show the prospective employer your willingness to learn that skill and ask for suggestions.
Make Connections
Networking is an essential aspect of establishing your career in Canada, and Church can vouch for it. On a visit to a bank recommended by her husband to open her account, she met someone from the Philippines. In conversation, he found that she wanted to enter the banking industry as well. He recommended she apply to that bank since he was aware of some available positions. This led her to discovering some interesting positions on the Careers page of the bank's website.
Reset Your Expectations
Church had already tasted managerial duties in the Philippines, so she was insistent to find a similar job in Canada. She resisted starting at the bottom because she had developed her skill set to be at the top. She even earned her license in Canada to become a Financial Advisor. However, her lack of Canadian banking experience kept her from getting her dream job. So, she decided to get her foot in the door at an entry-level position: she accepted the post of a part-time teller.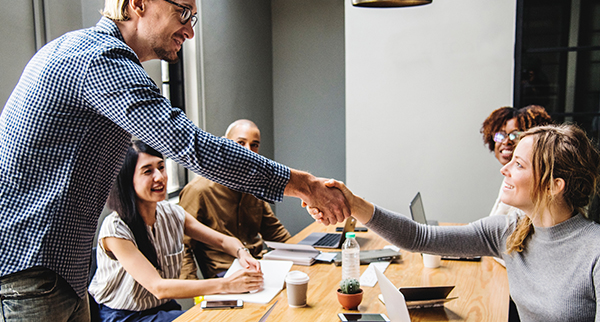 Set Your Sights on the Goal
Once she had become an employee of the bank, she worked her way through the top rather quickly. Within two months, she spoke to her manager about her aspiration of being a Financial Advisor and mentioned that she had already acquired a license. She was asked to wait since she was new and it takes a while for both employer and employee to establish comfort before any moves can be sanctioned. Her next manager also asked her to keep learning so she could be fully prepared when the time came. Church advises, "Set your goals to where you want to go and do a road map going there… whatever it takes."
Weigh All the Opportunities
Sometimes, what seems like an opportunity could be an obstacle. Church learned that lesson when she was offered the post of a Financial Advisor with a different bank. They, too, wanted her to start as a teller and guaranteed her a promotion within a time frame she knew was unrealistic for the industry. Her choice was between staying with the current organization and moving to a new, faraway one for the same position. She declined the offer, and a week later, she received a call from the HR department because her manager had recommended her for the post of Financial Advisor.
Church is a forward-thinking person. She has had her share of sadness over not being able to secure a job she wanted, but she always asks herself, 'what next?' She suggests constantly looking forward and equipping yourself with knowledge to be able to move ahead in the banking industry.
About Marie:
Marie Gervais, PhD., CEO of Shift Management Inc., provides managerial training and workforce interpersonal development to business and industry through online courses and web coaching. She helps individuals and organizations build talent and skills for leadership, communication, and conflict resolution particularly at the supervisory and middle management level. Her work has gained a reputation for excellence in integration and inclusion of the diverse workforce. With her team at Shift Management, Dr Gervais helps clients reach their business goals through team building coaching and industry-specific training development for interpersonal leadership skills. Her impactful digital and multi-media resources have been successfully implemented with many different populations and contexts. The results prove that a learning workplace is a happy and profitable one!
Check out Marie's podcast Culture and Leadership Connections on Apple Podcasts and on the Shift website to hear stories of leadership and all things cultural. Consider the signature Supervisory Leadership Certificate Course for upskilling your workforce at:
https://shiftworkplace.com/courses/supervisory-leadership/
Contact information:
780 993 1062