Barriers to communication can be removed!
Ask employees in any workplace what the company's biggest internal problem is and the majority will say without hesitation, "communication," (insert eye rolling and groans here). Why is it that although we are social beings and enjoy being around other humans, we just can't seem to get communication right?
Part of the problem is that often we are unsure about what barriers surround the communication context: what is it exactly that gets in the way of a message going from sender to receiver? When it comes down to being specific about what should change to make workplace communication more effective, not many people are aware of the barriers let alone do they know how to name and remedy them.
But, I am getting ahead of myself. It's always better to start with a framework before trying to solve a complex issue, so let's begin there with a few words about what communication actually is.
Defining communication
In true communication, there are actually three things that are happening between sender and receiver. The people involved are:
Sending and receiving messages through sound and/or gesture (visual communications are also very important, but will not be directly addressed in this post)
Sharing and exchanging ideas in a process of mutual understanding
Conveying information and verifying that it has been understood in the way intended
As you can see, communication is not a one-way street. Unless a message has been received, processed and sent back to the sender in a way that both feel they have made a successful exchange, it is not true communication.
Getting in the way of communication
Because communication is a complex process that involves multiple channels and multiple individuals, each with their own ideas, histories, and expectations, it is easy for messages to morph (or even mutate) in the perceptions of communicators as information or ideas are shared. Here are some of the most common workplace communication barriers[1]:
1. Physical barriers: These result from the nature of the environment. Consider, for example, the natural barrier which exists if staff are located in different buildings or on different sites. Likewise, poor or outdated equipment, or failure to introduce new technology in a timely manner…these may also cause physical barriers. Further scenarios relating to physical barriers include the:
Struggle staff experiences to keep old equipment on track
Frustration employees feel with new software they can't understand
Difficulties caused by staff shortages or lack of other resources
Distractions brought about because of background noise, poor lighting or an environment which is too hot or too coldcan all affect people's morale and concentration, which interfere with effective communication.
Each of these barriers has the potential to affect people's morale and concentration, and this affect impacts how effective communication is in those physical environments.
2. System design: System design faults refer to problems with structures or systems. Examples might include an organizational structure that is unclear, a poorly-designed workflow, lack of standard operating procedure or an inadequate meeting structure. On the other hand, overly complex touchpoints, sign-offs or dispute resolution processes can also create the kind of red tape that literally strangles communication. Consider also:
Inefficient or inappropriate information systems
A lack of supervision or training
Confusion over roles and responsibilities
Unclear accountability structures, or accountability structures that are inconsistently implemented
Each of these items can have immense impact on people's attitudes and can act as a governance system that either supports effective communication or dismantles it.

3. Attitudinal barriers: These live within people's minds and hearts. They can be caused by:
Poor management
Lack of consultation with employees
Personality conflicts
Lack of motivation
Dissatisfaction at work
Insufficient training
Resistance to change due to entrenched attitudes and ideas.
Often people with poor attitudes are tolerated, re-trained, moved to different departments or even promoted in an effort to avoid dealing directly with the person. The major difficulty in communicating with a person who has a poor attitude is that they tend to be closed receivers of information AND they are often closed senders of information. When I say "closed" what I mean is that they have developed a rigidity in how they will communicate, what communications they will entertain, and often even who they will communicate with. This inflexibility makes it difficult for them to share or receive anything outside their predisposed preferences, and that can be both intimidating and demotivating for others involved in the communication.
4. Individual language ability: The use of difficult, slang or inappropriate words in communication can prevent people from understanding the message. Poorly explained or misunderstood messages can also result in confusion. To speak clearly, the communicator must first think clearly and be able to focus on specific goals, then create the message that will reach those goals for the communicator AND the audience. This is a skill which requires practice.
5. Physiological barriers: These may result from individuals' personal discomfort, caused—for example—by ill health, poor eyesight or hearing difficulties.
6. Psychological barriers: A close relative to attitudinal barriers, psychological barriers involve elements like:
Emotional regulation ability, specifically of emotions around anger, sadness and connection
Dislike of a team member
Disrespect
Discriminatory beliefs
The intent to harm or undermine rather than encourage and help,
Feelings of superiority towards individuals or groups
Personal emotional issues resulting from past experiences
Our personal psychologies tend to act as lenses through which everything we experience is perceived. In terms of communication, if these lenses are spotty, smudged, or dirty, the messages we receive will be similarly affected.
7. Presentation of information: Simply put, the communicator must consider the audience before beginning a communication and purposefully build in elements that will aid understanding. Different audiences require different approaches to be receptive to communication, and these must be accommodated for in order for communication to be successful.
In summary, communication barriers can be related to the physical environment, poorly designed or functioning systems, attitudes, language ability, physiological difficulties or inappropriately or poorly presented information. These barriers are the result of many sources – cultural understandings, individual ability to process and retain information, etc. – and the barriers all result from one key place: we are all individuals with different abilities and experiences. This fact is not going to go away.
So, how do we work with it? We focus on what we can control: ourselves. Our goal needs to be to remove our own barriers so that we ourselves are not an obstacle to others.
Want to learn more about effective communication?
Lessons from YouTube
There is this fantastic YouTube video about a communication problem between two people in a subway station. Although this is not a workplace specific example, it is easy to see from the situation how easily two people can jump to a negative conclusion instead of first finding out if there is a communication barrier that could be removed.
In the video a young woman wearing a veil tries to get the attention of another woman to ask her a question about which train to take to Happy Valley. It turns out the other woman is hearing impaired so their communication barriers are quite significant. You can watch the video below, and I will also show it to you play-by-play, identifying each barrier and then providing some advice on how to deal more effectively with this barrier should you face it yourself.
So here's what happens in the video…
1. A young woman whose face is veiled (we'll call her Woman #1) tries to talk to another young woman (Woman #2) at the subway ticket machine. Woman #1 is ignored by Woman #2 despite trying to get Woman #2's attention.
BARRIER APPEARS TO BE ATTITUDINAL.
Advice: Don't jump to conclusions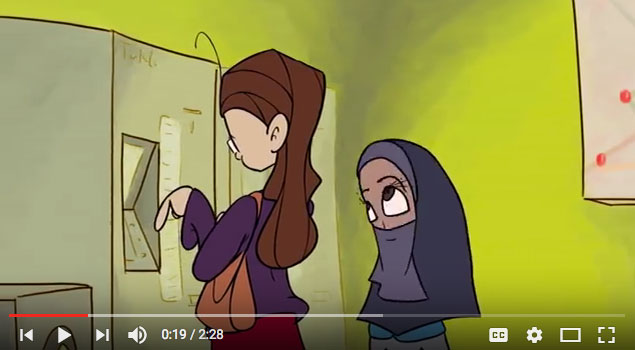 2. When the Woman #2 purchases a ticket but does not respond to Woman #1, Woman #1 says angrily, "Hey I'm a human being! If you don't want to help, at least say so!"
THE ASSUMPTION THAT THE BARRIER IS AN ATTITUDE PROBLEM COMES FROM PREVIOUS EXPERIENCES THAT PROVED THIS TO BE TRUE. WOMAN #1 BECAME ANGRY QUICKLY LIKELY BECAUSE SHE HAS BEEN IGNORED IN THE PAST WHEN SHE APPROACHED OTHERS WHILE WEARING A VEIL.
Advice: When people misjudge you, it can come from a history of negative incidents from their personal experience. Instead of taking these reactions personally, get curious and see if you can find out some more information to help increase your understanding.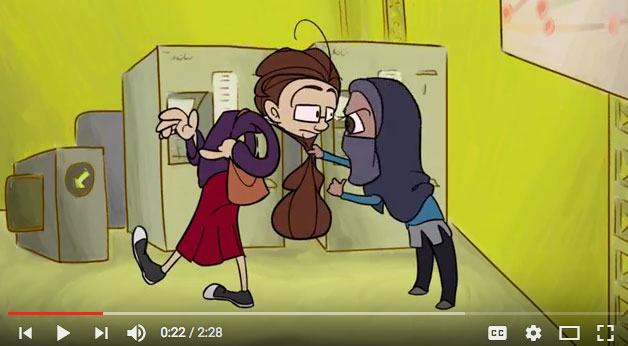 3. Woman #2 takes out a device that says, "Hello I am deaf, thank you for your consideration."
IT IS NOW CLEAR THAT THE BARRIER IS PHYSIOLOGICAL BECAUSE WOMAN #2 IS DEAF. THE ORIGINAL ASSUMPTION WAS WRONG.
Advice: Consider each experience as its own, separate incident. This way people and their behaviour do not get all lumped into the same category.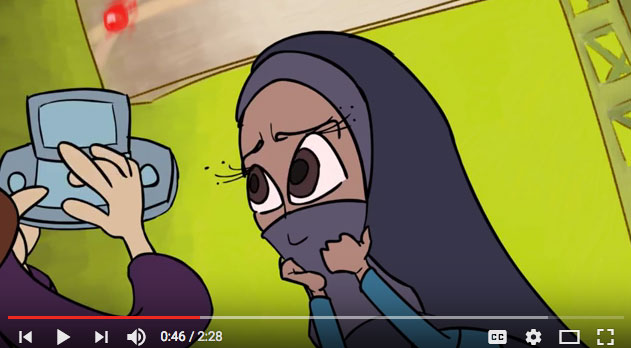 4. Woman #2 types into the device, "Usually I read lips to understand people." Woman #1 realizes that her veil is stopping Woman #2 from reading her lips.
PHYSICAL BARRIER OF THE VEIL STOPS THE HEARING IMPAIRED WOMAN FROM USING HER USUAL COMMUNICATION TOOLS.
Advice: Something you may be doing out of principle or belief could be a barrier to others without you realizing it. Consider how to work around it.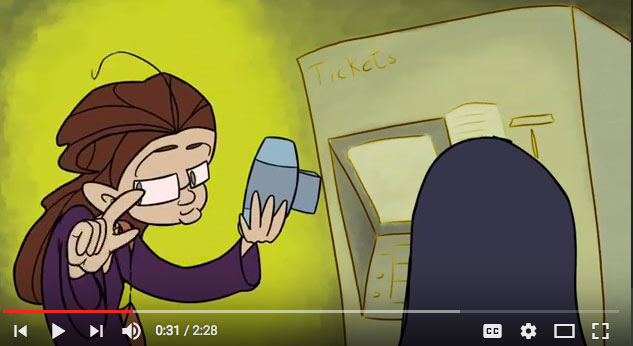 5. Woman #2 invites Woman #1 to type into the device so they can communicate. Just then the train passes by and the device only records a blurred sound.
TOOL DOESN'T WORK IN NOISY ENVIRONMENTS – BARRIER IS ENVIRONMENTAL.
Advice: Consider the environment for communication and make adjustments where possible to improve communication options (ie. Move to a quieter place?)
6. They try again – but the device is out of power
SYSTEM PROBLEM.
Advice:Before starting your day, check your systems and devices so they can sustain you throughout the journey.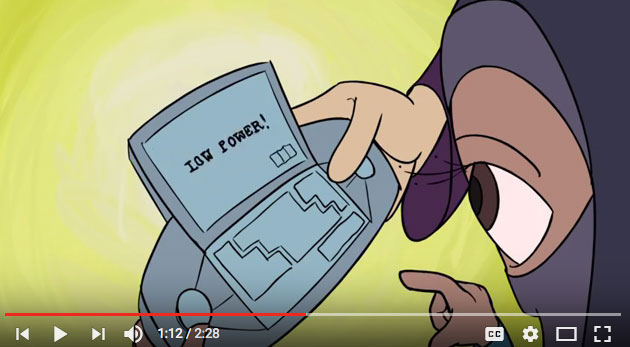 7. Woman #1 tries to show Woman #2 where she wants to go on the subway map, but Woman #1 is simply too short to reach it.
ENVIRONMENTAL/PHYSICAL BARRIER.
Advice: When you notice something is not working with a system, consider how it could be modified to be more accessible.
8. The two women use hand gestures to communicate, and Woman #1 is able to explain using gestures that she wants to go to Happy Valley.
USE NON-VERBAL TECHNIQUES LIKE GESTURES AND SIGNALS.
Advice: Be flexible in your communication with others. If one method doesn't work, try something different. Consider the role of non-verbal communication.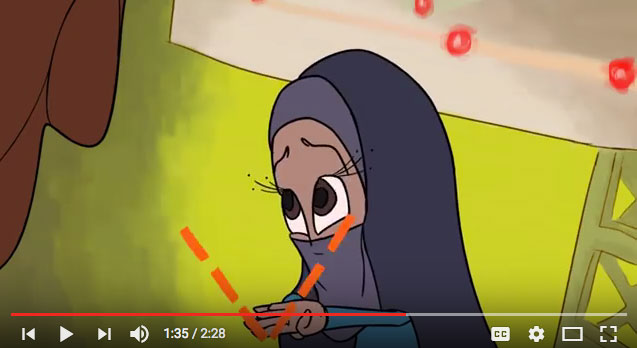 9. It turns out that both women are going to Happy Valley. When Woman #2 shows her ticket, both women shake hands because they have just solved the problem.
WHEN COMMUNICATION HAS BEEN DIFFICULT TO ACHIEVE, NOTICE THE ACCOMPLISHMENT.
Advice: Taking a small moment to acknowledge that your communication efforts have achieved a desirable outcome can help you form a more positive overall view of communication AND of the people you have been communicating with.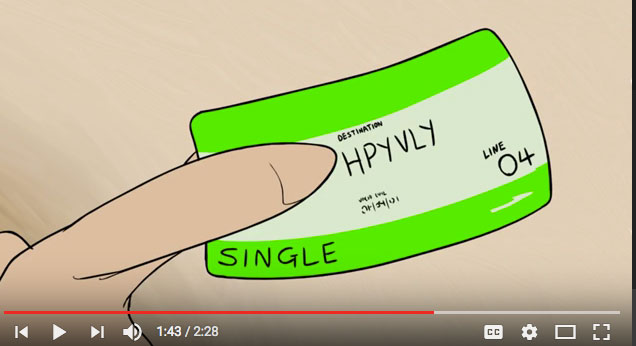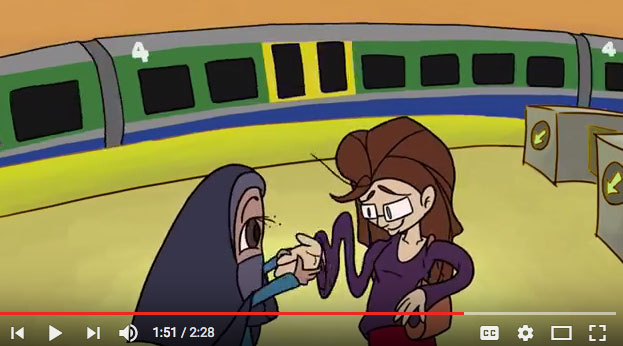 10. Just then the train both women need to take leaves without them.
SYSTEM BARRIER.
Advice: Irony exists. Just because a solution seems to have been found, that solution may not be an effective one. Avoid disappointment by realizing that if one solution does not work out, another will come that will work out, it just hasn't come yet.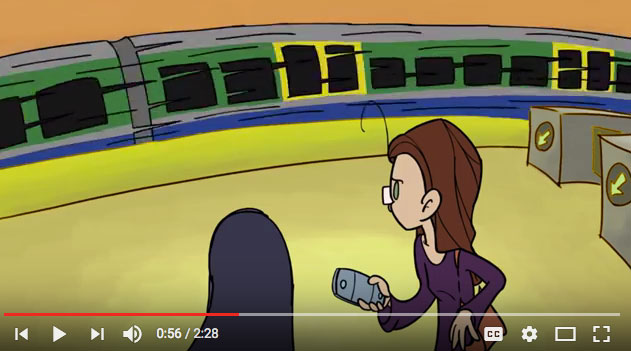 11. Woman #2 becomes frustrated and angry. Woman #1 feels bad about it.
ATTITUDINAL BARRIER.
Advice: Helping others may not always be beneficial to you. That isn't their problem and blaming others for your lack of benefit doesn't help either of you. Get over it and move on!
12. As if to add more stress to the situation, an announcement on the subway speaker says, "Line four is delayed for one hour."
SYSTEM DESIGN/ENVIRONMENTAL BARRIER.
Advice: Chalk it up to your tuition fee for a life lesson on patience. Move on.
You're smarter than you think!
Let's recap. There are 7 barriers to communication; can you name them? See how many you remember before having to check back.
1.
2.
3.
4.
5.
6.
7.
The animation we used shows how easy it is to fall into assumptions about other people's motives and attitudes and underlines why it is important to remove the communication barrier to solve the problem. What really works about the video, however, is that it also shows that even when barriers are removed, circumstances can cause us to have a negative attitude.
The lesson in this whole illustration is that me, myself, and I are ALWAYS the people who can make the most difference in establishing a climate of communication. The more we learn to suspend our own judgement and the more we look for collaborative solutions to problems, the closer we bring our workplaces to that ideal of free flowing and benevolent communication, and the more comfortable we will feel in our work environment.
Find this useful? Want to go farther? Click below to check out our new Quickstudy Professional Package – designed for busy people who want to keep their skills current.
"Words are singularly the most powerful force available to humanity…Words have energy and power with the ability to help, to heal, to hurt, to harm, to humiliate, and to humble."
<a href="#" class="tweet-custom" target="_blank"><!-- [et_pb_line_break_holder] --><span class="fa fa-twitter"></span><!-- [et_pb_line_break_holder] --><span class="tweet-text">Tweet Quote</span><!-- [et_pb_line_break_holder] --></a>