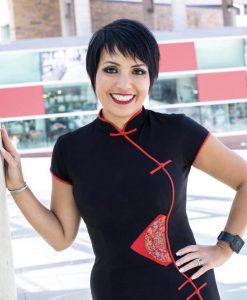 Bio for Catherine Vu
Catherine Vu manages Pro-Active IT Management Inc., a recognized force within the Alberta IT community, which also participates in special Silicon Valley development projects. Under her watchful eye, the Pro-Active team continues to grow, building thought and action leadership in the information management industry.
As an immigrant to Canada, Catherine believes in 'paying it forward' and is dedicated to giving back to her community. Her recent support includes Alberta Easter Seals, Winnifred Stewart Association, AB Cancer Foundation Bust a Move, and Suit Yourself, to name a few. She was also one of the 22 founding mentors of the U of A Venture Mentoring Services (UA VMS) program.
Episode highlight
As a Vietnamese woman in IT, Catherine Vu has crossed many barriers to be a successful entrepreneur. In this podcast, she shares how her culture influenced her and which aspects of the Canadian culture inform her professional decisions.
Links
Quotes
"What's important is how connected we can be as a community and how we can grow and help each other."
"The worst thing that can happen is I fail. If I fail, I start again from Day 1."
"If they don't know me, they can't judge me."
"Treat others how you want to be treated."
Takeaways
Catherine emigrated from Vietnam in 1981 with her mother and two sisters, when her father sponsored them over. She has travelled all over Canada, but she is proud to be an Edmontonian. When she graduated in 1994 from U of A, she found a marketing job with an IT company owned by an accounting firm, which allowed her to foray into IT. In 1997, she ventured out with a partner and has been an entrepreneur ever since. IT has given her the opportunity to work with her customers (which she loves) and the privilege of being a business owner. She has built an efficient and reliable team over the last 15 years.
Her brother's Down's syndrome led her to volunteer and work for the community. "I love giving back to the city that welcomed me when I was very young," she quips.
Childhood incidents:
Catherine's father left Vietnam for Canada in 1975, and her mother raised Catherine and her siblings. She was the oldest, so she helped raise her siblings and do laundry (a task she now despises!). When they moved to Canada, she learned by watching her parents, the importance of responsibility and hard work.
Her mother always told them, "You have my trust until you break it. Once you break it, good luck getting it back!" She lives her life with trust as a given – she trusts her employees on their IT expertise, and even trusts her competitors! She has always found that trusting has served her well, even in situations others would deem risky.
Groups you were born into:
As a Vietnamese, Catherine learned to respect elders and authority figures. From her culture, she also imbibed her need for predictability, security and control. As an entrepreneur and leader, she works to push past those limitations and surpass her personal boundaries for growth.
When she was asked by her partner to enter into business, she considered the worst case scenario and realized that even if it came true, she'd still have her family to count on. So she started off without any training, a business plan or much capital. Even now, before making any decision, she asks herself, "What's the worst thing that can happen? Can I handle the worst?" and if the answer is yes, she jumps all in.
Groups you chose to belong to:
For Catherine, a sense of belonging is important. When her family first found out her brother had Down's syndrome, she suggested that they join support groups. Not afraid to ask questions, she became involved in volunteering out of her curiosity to learn more about her brother's condition. She carries that curiosity into her business – she acknowledges that others may know more than her, and she is happy to learn from them.
She is also an active part of women's entrepreneur groups. These energetic, positive and supportive women discuss common challenges in running businesses and encourage each other to work their hardest to be successful.
Temperament and personality influences
Catherine describes herself as a happy and bubbly person who goes with the flow. She values punctuality and likes to pack a lot in her day, making the most of the time she has. She is also impatient and tends to make quick decisions. She is working on being a good listener without offering solutions to problems. She's also very direct in her communication, a Vietnamese trait that has been hard to shake off.
She is very grateful for Canada, and feels loyal towards Edmonton, Alberta, for the wonderful experiences she's had with people here. IT has shaped her to be a very optimistic person and she lives with an attitude of gratitude. She continually works to better herself – both personally and professionally. She hopes to make an impact by walking the talk and leading by example.
A time I became aware that my way of doing things was cultural and specific to my cultural experience
Catherine has faced racism in Canada, but she prefers not to dwell on those instances. However, she once was found on the other end of the debate when she commented that her 'white' friends didn't know how to make salad rolls well, and she was called out for being racist!
She also pleads guilty for unintentionally encroaching on others' personal space in Canada – a concept not given much importance in Vietnam.
She notices certain aspects of her Vietnamese culture makes her stand out from other people: she doesn't mind having soup for breakfast, but does mind when children hit each other on their heads – a body part considered sacred in her culture.
Advice to an employer to work with me
Catherine prefers to be given the freedom to work and find her way to the desired outcome. As long as the employer is forthright and direct about expectations, she will ensure that she delivers the results.
More great insights from our guest!
Catherine has learned that to be a good leader, you need to be involved with people who are not like you, to gain a different perspective, even if it is difficult to do so. She keeps reminding herself as a leader to learn from people, things and experiences and be a more compassionate and empathetic person by recognizing those differences.
If you know someone who needs IT support, especially a non-profit, contact Catherine's on-demand outsourced IT Company today!