Ever wondered who comes to Canada, how they are classified, and how many people are actually accepted?
If not, maybe this will persuade you to get curious about immigration categories: by
2030 immigration
is projected to account for all – not just some, but ALL – of Canada's population's growth. What this means for employers is that the Canadian-born workforce is shrinking while demand for labour is growing.
By using skilled immigrants to fill these workforce gaps, organizations who have the skills to effectively onboard newcomers will be poised to boost innovation, understand a diverse customer base more fully, and access the critical skills they need to move their business forward.
Now are you interested?
What follows will take you through the basics on the 3 main immigration categories in Canada. You'll see a few numbers to help you get an idea of how many Canadian newcomers we welcome each year (and a bit of history on those numbers), and then we'll check out some resources you can use as a reference for yourself and your employees to help you better understand and support an immigration experience.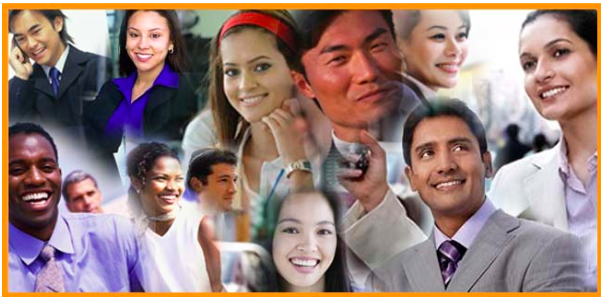 The 3 immigration categories:
Canada has a policy of bringing people into the country for social, humanitarian and economic reasons. Because of this policy, there are three classes of immigration to Canada:
#1. Economic
Most immigrants in this category about come under the skilled worker and VIP Business Immigration Program. They go through a complex application process and must arrive with enough money to live for up to a year in case things don't work out as expected.
Business immigrants have a separate set of criteria linked to making profit. Because our census taking has been cut and changed several times over the past 20 years, it is difficult to have exact statistics on the number of immigrants in this class consistently, but in 2005 they comprised 19.8% of all immigration. Skilled immigrants can come to Canada under the Skilled Worker Program, the Skilled Trades Program and the Canadian Experience Program.
#2. Family class
This class is based on family sponsorships of individuals who are either Canadian citizens or permanent residents and want to bring family members to Canada to live. People can bring spouses and partners as well as dependent children, parents and grandparents, children and other relatives, and adopted children to live in Canada under the family class application. Efforts have been made to speed up this process so families can be reunited.
#3. Refugee
Canada sponsors refugees on humanitarian grounds. Refugees are people whose home countries have made things so horrific, they had no recourse but to flee. People don't want to leave their homes and their lives. They don't particularly enjoy being shot at or having bombs go off around them and they could do without the starvation, dirty water and sleeping in the streets too.
Unfortunately Canada has been erratic in its decisions to accept or reject refugees until more recently. For example before WWII, Mennonites and Hutterites were sometimes accepted as refugees and other times not. After WWII Estonian refugees were accepted from Russia but not Jewish refugees. In the Komagatu Maru incident in 1914, Indian refugees were turned away from Canadian shores when they arrived from China by boat and most died as a result.
However, we can be proud of the fact that as of January 2017 we have settled 40,081 Syrian refugees in Canada. The immigrant serving agencies who have done the bulk of this resettlement work can be commended for getting the majority of the Syrian refugees started with work, schooling, learning English and starting small businesses within a couple of months of arrival.
The federal government has a new page on their site showing how refugees come to Canada and what services are available to help them resettle. It also includes avoiding issues such as marriage fraud and knowing your rights as a refugee.
How many immigrants does Canada accept?
Regarding Canada's immigration numbers generally, here are some numbers from 2010:
In 2010 Canada accepted 280,681 immigrants (permanent and temporary)

Of these immigrants:

67% were economic immigrants = 186,913 people

22% were family class = 60,220 people

9% were refugees = 24,696 people

2% were classified as "other" = 8,845 people
This "other" category is comprised of about 60,000 temporary visitors coming to Canada each year under the International Experience Canada initiative, which provides working holiday, internship, and study visas.
Our target as of the end of 2016 is 300,000 permanent residents – and if we meet it, that will be the first time since 1913 that Canada as a nation has fulfilled our immigration promises.
Resources for newcomers and employers
Because Canada's economy depends on regular infusions of foreign workers and immigrants, the government is interested in helping people to settle and find success in their professions. In Alberta, the government has developed a brand new resource for both newcomers and employers that I recommend checking out. In fact, I think it's excellent.
Opportunity Alberta is designed to help you learn more about the province, research its employment opportunities and find out why it's a great place to live, work and raise a family. As you are browsing through the site, find the interactive map that will teach you more about the province's regions, communities, and resources and subscribe to news and resources that are relevant to you.
For Albertan employers, there is a separate page full of resources to help you with:
If you have lived in Canada all your life, what's been presented here is probably new knowledge. My hope is that by gaining some understanding of the process immigrants embark on to come to Canada, you will also learn something about who these people are as individuals.
They are skilled. They come from a variety of backgrounds and experiences that they bring with them. They are resilient and resourceful (if they weren't, they would not have been able to navigate the maze of paperwork and lineups required). And they are doing what they can to achieve their goals in a Canadian context.
And I think that there's something inspirational in that.