Need something short and targeted?
Team challenges are not always addressed with training. Sometimes a short-term team coaching package can be just the ticket for improving team communication dynamics, solving ongoing conflicts or building a new project framework.
Shift Management offers a coaching solution that provides teams with insights into their functioning as individuals and as a group. Once they become aware of their strengths and challenges, many teams auto-correct their behaviors and start the process of continuous improvement. The Shift Management facilitator keeps them on track and helps them stay accountable to the changes until they have transitioned securely into their desired team habits.
Team coaching packages usually look like this:
Initial phone or in-person meeting with decision maker to identify and explain the concern
Team completion of pertinent online workplace inventories to uncover individual traits and group tendencies.
Individual phone or web coaching sessions for each team member to go over inventory results
Shift Management interpretation and analysis of inventory results and creation of team portraits.
Three team coaching sessions to go over the group portraits, identify and practice strategies and follow up on team improvements
Report with recommendations written and presented to decision makers.
Sound like something you could use?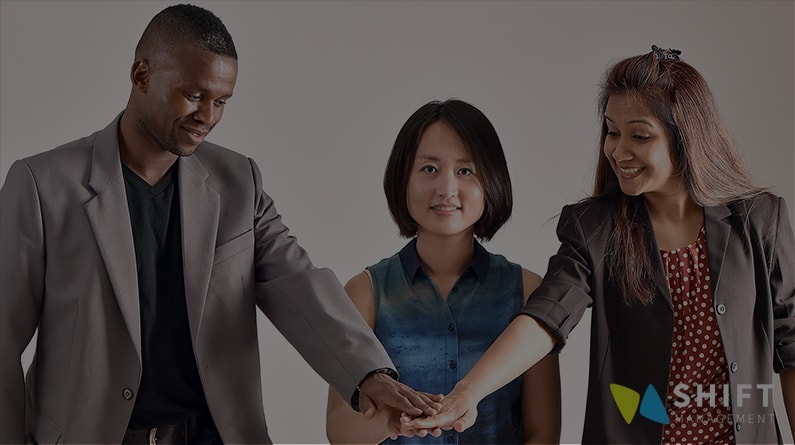 This package is for you if:
You need a short term intervention for a team issue
A project is not working and an outside facilitator would help
Your team wants to walk through or strategize a plan and needs probing questions
3-5 team members could benefit from understanding team dynamics
Team communication needs some skill building
The issue to be addressed is short term (3 sessions)
You are willing to have team members take workplace and conflict style inventories
This package is not for you if:
There is serious conflict between a manager and a team
Your leadership needs the coaching, but isn't willing to learn
You want to use coaching as a substitute for training
Team problems include violence and addictions
Team coaching is not supported by the leadership
How could team coaching benefit you?
Get to the root of an issue quickly and find potential solutions
Benefit from the insight, analysis and strategic planning skills of an expert facilitator
Bring conflict to the table in a way team members feel safe to address
Learn useful communication and problem solving skills as they are applied to a specific project
Cost effective and high value way to stop revenue leaks due to poor teamwork
Ready to improve your team?
<div id="dropit" class="wrapper-dropdown hidden" >Select your package ...<!-- [et_pb_line_break_holder] --> <ul class="dropdown"><!-- [et_pb_line_break_holder] --> <li><a href="/cart/?add-to-cart=2923">Individual Coaching Package</a></li><!-- [et_pb_line_break_holder] --> <li><a href="/cart/?add-to-cart=778">Team Coaching Package</a></li><!-- [et_pb_line_break_holder] --> </ul><!-- [et_pb_line_break_holder] --></div>
[testimonials_slider category="team-coaching-package"]